Professional Austin Bass Fishing Guide – Capt. Lee Benton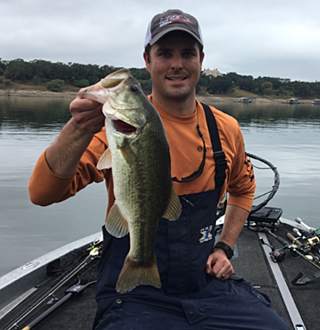 Capt. Lee Benton has been black bass fishing since he was very young. At the tender age of 15 he got involved with a local bass club. Since that time he started fishing bass tournaments and followed that up by becoming a professional Austin fishing guide for primarily largemouth bass on several of the local Highland lakes approx. 10 years ago. He was mentored by another very experienced local bass fishing guide by the name of Mike Hastings. Mike has been guiding bass fishermen in the area for over 25 years and he taught Lee the finer points of guiding for black bass as opposed to just fishing for bass.
Capt. Lee Benton was greatly influence by Mike's insights on being a professional Austin fishing guide for bass on the local lakes. Lee was able to learn a lot from Mike's lengthy experience guiding in addition to Lee's own time on the water as a bass angler.
Lee has become very proficient in locating and putting his clients on large bass over the years – as evidenced by the fish gallery – on several different lakes and at different times of the year. If you want to learn how to catch black bass from someone that knows the tricks of the trade, then a guided fishing trip with Capt. Lee Benton is just the ticket!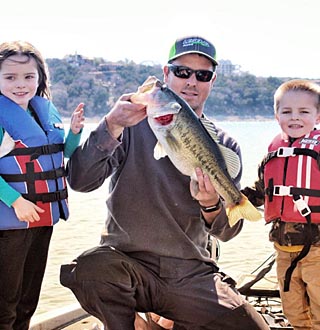 In addition to black bass, is which Capt. Lee's primary target species, he also guides for white bass, stripers (striped bass), hybrid stripers and crappie. Most of the time he uses and prefers artificial lures and baits, but when fishing for crappie, Lee will many times use live minnows.
As a local Austin Fishing Guide and tournament angler, Lee has spent a vast number of hours on the water fishing and catching bass (and other species also). This has given Lee some extensive knowledge of what is going on with our local lakes *year round*. By using the latest and most up-to-date equipment, boat, tackle and electronics, Capt. Lee can offer YOU the upper hand!
So if you're a serious bass angler OR a first-timer, contact Capt. Benton today to book your Austin fishing guide bass trip and get YOUR photo added to the fish gallery.