Inks Lake Bass Fishing Guide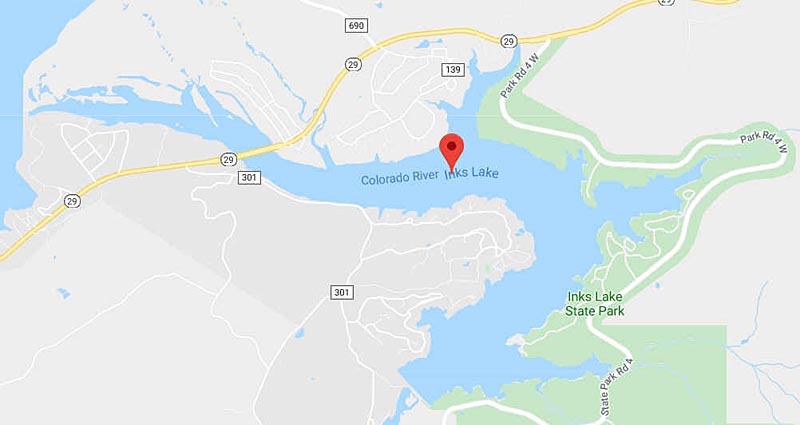 Professional bass fishing guide Lee Benton has spent many hours and days fishing and guiding on Central Texas Highland Lakes. Inks Lake is one of several frequently requested destinations for his clients. There is a good reason that happens. Inks Lake at certain times of the year has some of the best and most diverse bass fishing in Central Texas, including hybrid stripers, striped bass, white bass and of course our most sought after buddy the large-mouth bass (black bass).
Inks Lake is located northwest of Austin in Llano and Burnet Counties. It is a relatively shallow lake but it has prime bass fishing areas offering quality bass fishing throughout most months in the year. Inks Lake is another of the constant-level lakes and is immune to drought driven lake levels except when intentionally lowered occasionally for resident's dock maintenance. It has lots of underwater brush and structure, trees and docks etc. – creating great habitat for large-mouth bass to spawn, live, feed and tear up your fishing lines! Many very sizable large-mouth bass are caught in this beautiful lake each year.
When To Plan Your Bass Fishing Trip To Inks Lake.
Spring and fall are normally considered by most people as the prime times to fish for large-mouth on Inks Lake – or most other lakes, but bass can be and are targeted (and caught!) throughout most of the year. Your Inks Lake fishing guide uses a variety of techniques to catch black bass, depending on time of year, bait activity, weather, temperature, etc.
When black bass are suspending over points, drop-offs and other structure, top water lures can be irresistible to them on the surface. When the water is clearer during the spring months, sight fishing can become one of the more exciting ways to target large-mouth bass along the lake shore and in coves and around docks.
Most of the year, you can if you want also fish for stripers and hybrid stripers as they are also resident in Inks Lake.
Much of the time, you can if you wish, target several species of bass in a single fishing charter. Just ask your bass fishing guide Capt. lee about what's been biting and what he recommends. Your trip can be customized to go after whatever type of bass may be on your bucket list. You can book and enjoy either a full or a half-day charter, and there are tons of areas on Inks Lake where you can fish.
Learn Some Bass Fishing Secrets With Inks Lake Fishing Guide, Lee Benton.
Since Capt. Lee was around 15 years old, he's been tournament fishing on the Highland Lakes. Inks Lake is dang near in his backyard, and he's has additionally been a professional guide in the area now for over ten years. Regardless of what lake you're fishing on, there is almost never a substitute for being with someone that has local knowledge and experience. If you're truly serious about your black bass fishing, join Capt. Lee for a half day or full day on the water and see for yourself why Inks Lake is noted for its fine bass fishing.
Capt. Lee caters to business associates, families, couples, and friends who like fishing and then returning home with some fresh fish filets in their cooler. Whether you are an experienced or a novice fisher-person, Capt. Lee Benton will do everything possible to ensure your bass trip is productive and fun.
Capt. Lee especially loves to have sons and/or daughters fishing with their parents. Passing down the joys of bass fishing on a lake to your children or grandchildren is one of life's greatest pleasures, so Capt. Lee makes sure to keep the day as exciting and as much fun as possible for your children or grandchildren.
Your time on Inks Lake will be spent on Lee's 20′ Ranger Z bass boat, a fast and reliable vessel that is equipped with the necessary electronics and will ensure that you spend the maximum time with lines in water. All tackle, rods and reels are included in the price of your charter.
This is an opportunity to learn Central Texas bass fishing techniques from an honest and successful professional bass guide who has extensive tournament experience. If you're serious about bass fishing, book your next trip with Capt. Lee Benton now and have an great time Central Texas bass fishing on Inks Lake.
Contact Inks Lake Bass Fishing Guide Lee Benton TODAY!